FBI Director Robert Mueller continued to insist yesterday that federal authorities had no reason to suspect Islamic extremists were training at US flight schools before last week's suicide hijackings, even as more evidence surfaced raising questions about those assertions.
The vice president of a flight school in Oklahoma told The Boston Globe yesterday that three weeks before Tuesday's suicide hijackings, FBI agents interviewed him about a suspected terrorist who had trained at the school.
Dale Davis, the vice president of Airman Flight School in Norman, Okla., said FBI agents showed up at the facility asking questions about Zacarias Moussaoui, who was arrested in Minnesota last month after he tried to get flight simulator lessons on flying a commercial-size jet.
In addition, Davis said that FBI agents visited his flight school two years ago to ask questions about a former student who had been identified by federal authorities as an associate of Osama bin Laden, the Saudi-born dissident who is the prime suspect in organizing last week's hijackings.
Davis also said that two of the men who hijacked two flights out of Boston's Logan Airport last week, including Mohamed Atta, who investigators believe was the ringleader of the Boston hijackings, had visited the Norman flight school last year before deciding to attend one in Florida.
At a Washington briefing yesterday, Mueller repeated his assertion, first made Friday, that federal authorities had no inkling that terrorists were using US flight schools to acquire the training they needed to take the controls of commercial airline rs as they did on Tuesday.
"There were no warning signs that I'm aware of that would indicate this type of operation in the country," he said.
But the Globe reported Saturday that federal authorities have known for at least three years that two associates of bin Laden had trained in the United States as airline pilots.
The link between the Al-Qaeda terror group, allegedly led by bin Laden, and US flight schools emerged earlier this year at the trial of four men charged with the 1998 bombing of the American embassies in Kenya and Tanzania. At that trial, during which FBI agents were called as witnesses, an associate of bin Laden testified that he went to a flight school in Texas.
Prosecutors introduced evidence that a second associate of bin Laden, Ihab Ali Nawawi, had trained at Airman Flight School, as did Moussaoui, who is now being held in New York for questioning on suspicion that he is an associate of the hijackers.
In a telephone interview, Davis confirmed that the FBI had suspicions about Moussaoui at least three weeks before last week's disaster.
The questions FBI agents posed to him appeared to be about whether Moussaoui could have been a terrorist, Davis said, including whether the alleged Algerian militant had ever made any "extreme comments" about the United States.
When asked why they were inquiring about Moussaoui, Davis said, the agents replied that "he had done something very bad."
Davis said FBI agents had visited his school just two years earlier to inquire about Ihab Ali Nawawi, who took flight training there in 1993 and was later charged in connection with the 1998 US Embassy bombings in Africa, which were blamed on bin Laden's group.
Davis also confirmed that Atta and another suspected hijacker, Marwan al-Shehhi, visited Airman Flight School, staying overnight at the school's dormitory in the nearby Sooner Inn, before deciding to train at another facility.
"They did a school visit in July of 2000 but went elsewhere for whatever reason," Davis said.
The Los Angeles Times yesterday quoted an unidentified federal official saying that Moussaoui asked only for lessons on "steering, not landing" and cheered when he watched a news account of the suicide hijackings at the jail in Minnesota where he h as been held since last month.
Two other suspects being held for questioning in New York, Aybu Ali Khan and Mohammed Jaweed Azmath, who had been living in New Jersey, were taken into custody on a train in Fort Worth, Texas, and arrested after police found they were carrying box cu tters similar to those used by some of the hijackers. Investigators believe the hijackers in Tuesday's attack used box cutters because the tool's plastic handle would not set off metal detectors at airport security checkpoints.
While authorities have not identified a fourth suspect being interrogated in New York, CNN yesterday said that the man is a doctor from San Antonio, and that Azmath and Khan may have been heading to his home there to hide. CNN said the man attended t he same flight school in Arizona as one of the hijackers of American Airlines Flight 77, which crashed into the Pentagon.
A neighbor told The New York Times that one of the four men who lived in the apartment that Khan and Azmath listed as their home worked for the Saudi consulate in New York. That represents another lead for investigators, who already believe that the hijackers exploited Saudi connections to gain access to the United States and go about their business without attracting undue law enforcement attention.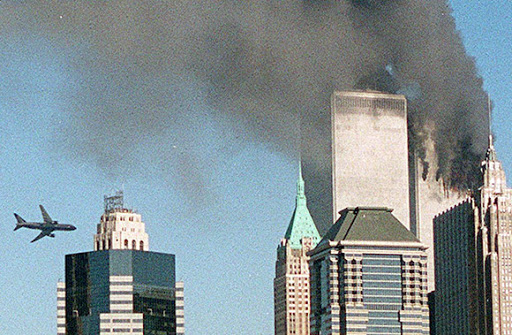 The Globe reported Friday that some of the hijackers had used affiliations with Saudi Arabia, the United States' staunchest Arab ally, to gain access to the United States and flight schools with less scrutiny from US authorities.
Most of the terrorists who commandeered the four planes last week trained at flight schools in Florida, gaining the aeronautics training they later used to kill thousands. According to flight instructors, foreign students with Saudi backing receive only cursory inspection by the US State Department before they are granted visas to come here.
Investigators in Boston, meanwhile, have identified a third car believed to have been used by the 10 men who hijacked two planes out of Logan International Airport. The car was found parked at Logan Airport and was rented from a local Dollar Rent a C ar franchise.
Previously, investigators had identified two cars rented from the Boston office of Alamo Rent a Car. One of the cars was found in a Logan parking lot, while the other had been left in Portland, Maine, by two suspected terrorists before they boarded a flight they allegedly used to connect with the doomed American Airlines Flight 11. Investigators believe the car found in Portland was used by Atta and Abdulaziz Alomari, who sat next to Atta in the business class section of Flight 11.
An FBI report first obtained by Der Spiegel shows that when agents went through one of Atta's bags, which did not make the transfer from a connecting flight from Portland, Maine, they found airline uniforms.
Investigators are trying to determine if Atta or any of his associates used the uniforms to gain access to areas of Logan Airport that would normally be secure, sources said. They are also trying to determine if the uniforms were connected to a break -in last April at the Hotel Nazionale in central Rome, in which two American Airlines pilots said they were robbed of their uniforms, badges, and airport access badges.
Investigators say they are still examining whether the hijackers had inside help among ground staff at Logan Airport, even though it appears they simply carried on the box-cutters and other knifelike objects they apparently used to take control of the planes.
FBI agents continue to show an interest in the Flagship Wharf condominium complex, where bin Laden's brother owns six luxury units. Some members of the bin Laden family live in the building, and Boston Police have maintained a full-time guard detail there since Wednesday.
Bin Laden is estranged from his family, which has denounced his extremist views, but police are worried that the family or its property could face the sort of vigilante violence that has been visited on many Muslims and their businesses acr oss the United States since the suicide hijackings.
Sharon Grancey, the head of the Flagship Wharf condo association, declined to comment. But a resident said the FBI has visited the complex several times since last Tuesday.
"They've been in and out of the building," said the resident, who spoke on condition of anonymity.
CBS News reported that a federal grand jury has been empaneled in New York to investigate the suicide hijackings. The grand jury will sit in suburban White Plains because the federal court in Lower Manhattan is still closed because of the attack.
Attorney General John Ashcroft said yesterday that associates of the hijackers may still be in the United States.
Ashcroft's warning in part explained why it took several days for most airports, and even longer for Boston's Logan Airport, to open last week after Tuesday's suicide hijackings.
Ashcroft made his remarks during a briefing in Washington as he sought congressional support for a package of new antiterrorism legislation, and as FBI agents interrogated the four men in custody in New York.
Also yesterday, Mueller acknowledged that the investigation is being hampered by a lack of investigators who speak Arabic.
"We have had a language shortage for a period of time," he said. " I don't think it would be just the FBI. I think it's a number of federal agencies."
The FBI director refused to say how many people have been arrested in the probe.
"There are a number of material witness warrants that have been issued. They are sealed in most cases, and I cannot give you direct numbers," Mueller said.
But he spoke of the enormous scope of the probe, saying that the FBI has had 47,000 tips received over the Internet, while a telephone hotline has produced 7,800 tips. He said that the FBI's field offices have generated an additional 26,000 leads.
Mueller said there were 500 investigators at FBI headquarters in Washington, representing 32 federal, state, and local agencies, running down all of the tips and leads.
Mueller said that 49 people who have been stopped and questioned in the course of the investigation have been detained by the Immigration and Naturalization Service.